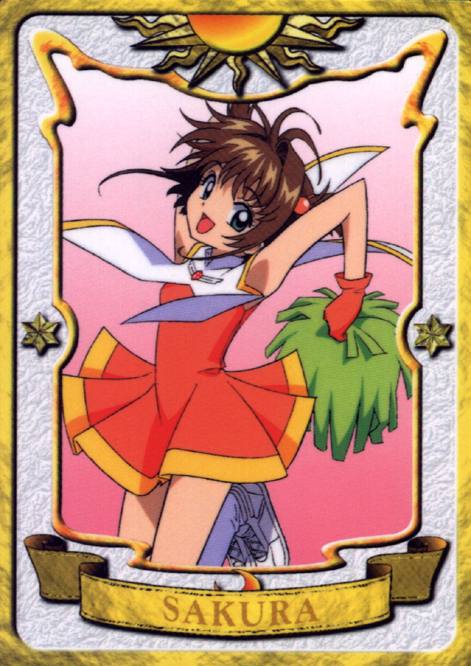 This picture is thanks to SLG, a great CCS site
Sakura Kinomoto ('heroine') : name means 'Cherry Blossom'
Sakura is our carefree heroine. She is fun loving and brings a smile to everyones face. She likes GYM and music at school but she hates maths.
She became an unlikely Cardcaptor in the 1st episode; Sakura and The Mysterious Book. She has captured many cards with her faithfull side-kick, Kero, her documenter/costume designer/all-time best friend Tomoyo and then later (in the 8th Japanese episode) with her rival/ally Syaoran Li.
At the begining of the series we see that Sakura has a majour crush on her brothers best friend, Yukito. Don't think this is weird! He may be way older than her my our standards but not by Japanese, ok?? To each his own I say, pressing on ...
Sakura, being so innocent and naive, the good before the bad. She trusts people immidately and can come accross as a bit dense, but as the series progress, we see, and so does she, that her powers are growing and she trusts her intuition better.